hide (1964~1998 ) -
our beloved...
real name: hideto matsumoto
birth:1964.12.13
death: 1998.5.2

hide, who is the former guitarist of X JAPAN died on 5.2 last year. All the fans of hide miss him so much. It's already 1999, a year after hide's death. So, I would like to have a special on hide this time.

##Contents##

-photo gallery
-real audios
-wallpapers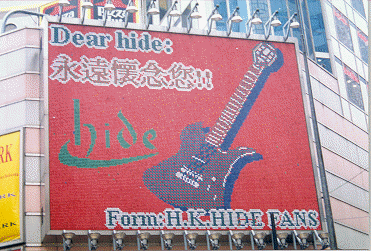 In order to show our love to hide, on 1999.5.2, some of my friends and I have booked a board for advertisement in Hong Kong - Causeway Bay's Gloden Plaza in order to post a message there to hide.

here is a photo taken by A. in Causeway Bay.
I am sorry that the message is in chinese.
The meaning of the message in English...
" Dear hide:
miss you forever !!
From: Hong Kong hide fans. "